[Guide] How to Migrate From QuickBooks Payments With New B2B Payment Options
[New Guide] Small to medium-sized business owners have several ways to collect payment from customers and clients—from cash to checks to more modern forms of payment like mobile payment solutions (PayPal, Venmo, etc.) and even cryptocurrencies.
And, of course, credit cards.
But whatever forms of payment you choose to accept (and keep in mind that your customers and clients will likely want options), it's essential to do so while also considering cost, convenience, and security—for you and your customers.
Chances are, as your business has grown, so have the payment options you've provided for your customers. At some point, you likely made the relatively easy move of offering credit card processing through QuickBooks or a similar account.
That probably worked well enough for a while.
But as your business has grown, you may have begun realizing some of the inefficiencies and added costs of these entry-level B2B payment solutions. You may recognize that it's time to move to a more sophisticated solution that offers greater functionality while also helping drive down processing costs.
We're virtually certain you're overpaying for credit card fees if you're doing more than $50,000/month in credit card business. You just don't know it yet!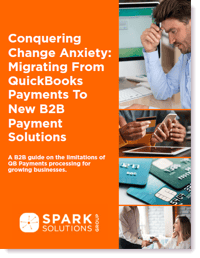 In our new guide, Conquering Change Anxiety: Migrating From QuickBooks Payments To New B2B Payment Solutions, we look at the alternative forms of B2B credit card processing solutions available to you and how to evaluate them.
This guide offers a practical, transparent, and vendor-neutral look at the credit card options available to small businesses and the criteria they can use to compare and evaluate them.
You'll learn about:
The limitations of QB Payments for growing businesses.
Considerations in finding the right credit card processing solution for your business.
How to compare credit card processing options.
How to successfully make the transition.
And much more!
There's a good chance you're leaving money on the table in credit card processing fees. There's an equally good chance you're missing out on opportunities to provide better service and convenience to your customers and clients.
Whether you realize it or not, it may be time to move in a different direction.
Download our guide to learn more!