Do you know that higher processing fees with "one size fits all pricing" in QuickBooks Payments can eat into your profit margins as your business expands?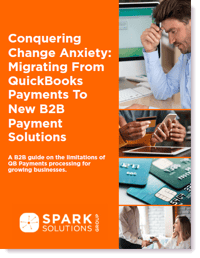 Check out our new guide, Conquering Change Anxiety: Migrating From QuickBooks Payments To New B2B Payment Solutions, that spells out the limitations and shows you exactly what to look for in a solution that can scale with your unique business needs.
Our guide helps you evaluate when your company has outgrown QB Payments and the advantages of a customizable credit card processing system!